Hey all. We're doing weekly dev blogs from now on (every Saturday) showing what we've worked on throughout the week. Here we go!

This week we begun working on Westworld and we've made some pretty solid progress already. Cookies completely overhauled the resource pack and cleaned everything up. We also spent the last three days redoing how we do trains and we're still not finished. We're making the trains with an exterior in mind this time. Already looking pretty incredible if you ask me.
Also me and Cookies both watched all of Westworld season 1 so if that ain't project research I don't know what is. Fight me.

We've tidied up our Patreon and you can now see all the perks on the right side of this site. We added new perks and an entirely new tier (for the hardcore supporters) which comes with having your own unique cosmetics/housing on Westworld/DotS upon release. Here are some of the cosmetic weapon skins for DotS Cookies has made for this tier so far.

And here are some of the incredible 3D modeled helmets for DotS made by LeYe and Cookies.
I'm getting some Crash Bandicoot vibes from those tiki helmets.

Skidallion continued and completely redid his format of making weapons for DotS, they're much more balanced and cleaner now. Here is what the inventory looks like on since it's not been seen before DotS.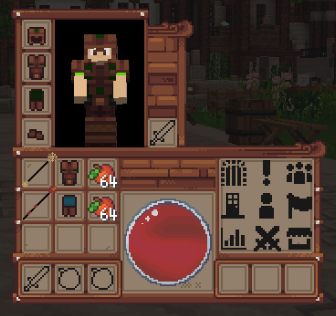 Slots on the left are inventory space, right are menu buttons. Health orb in the middle, equipped weapons/consumables in the three bottom right slots.

MrFlimFlammer has been working on builds for both DotS and Westworld, here is a screenshot from The Pirate Caverns dungeon (DotS) if you haven't seen it already. He's often streaming building on Twitch so chuck him a follow.
We also got to work on a Creative server for the community to get in on while the bigger gamemodes approach us, feel free to join in!
creative.thespire.network

That's all for this week. Consider becoming a Patron if you aren't already. I'm working to get these gamemodes out and playable for y'all to join in on ASAP but we're gonna need to pay for better servers and Patreon is our only hope. We appreciate you for being in this community regardless! <3

See you next Saturday! 🙂